Dental Implants

West Linn, OR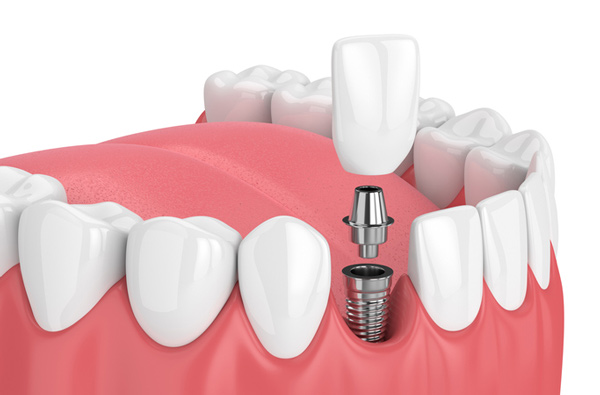 For patients that are in need of
dental implants
at our Roane Family Dental clinic, we are pleased to inform you that all can be ably handled in-house. It has been well established that tooth loss can cause significant impact on the psychological well-being as a person. It can drastically affect appearance and by extension, self-esteem. In order to solve these issues of confidence, restore functionality, and prevent misalignment of surrounding teeth, dental implants can be used. When properly done, implants can last many years, making what may seem to be a costly affair more than worth the investment.
A dental implant essentially has to do with the substitution of missing teeth and their supporting structures with a prosthesis moored to the jawbone. The job it plays in improving personal appearance and oral health cannot be overemphasized. If you are facing the problem of tooth loss and are looking for a long-lasting solution besides a
dental bridge
, then a dental implant may be just what you need.
Before the Implant Procedure
Typically, dental implant treatment begins with the extraction of a tooth. Tooth extraction is normally a solution of last resort when serious damage has been done to the natural tooth, making it untenable to preserve it. The damage could be as a result of many possible causes including physical injury, deep-seated decay, or advanced periodontal disease. When our dentist is unable to prescribe any other treatment that could save the tooth, an extraction will be carried out.

A simple extraction is carried out where the tooth is fully erupted and is in sound enough shape to be wholly pulled out. Local anesthesia may be applied to help put the patient at ease. If, however, the tooth has not fully erupted out of the gum (impacted), or may be cracked in such a way that pulling the exposed part may leave behind pieces, a surgical extraction may be required. For surgical cases, general anesthesia and the services of one of our oral surgeons may be required.

If during extraction and after x-rays it is found that the jawbone cannot support an implant, additional procedures such as bone grafting may be performed to strengthen it. If the extraction and implant are to be done along the upper jaw, we will also need to check on the position of your sinuses. If they are in the way, a sinus lift procedure may also need to be done.
Preparation for Surgery
For dental implants to be fitted, you must have healthy gums and adequate bone to support the implant. As already mentioned, some deficiencies can be surgically resolved to help build up bone thickness and prepare the passage for the implant. Once our dentist confirms that you are a suitable candidate for the procedure, we shall guide you on choosing a suitable choice of implant.
There are two types. Endosteal implants are surgically implanted into the bone, while subperiosteal implants are fitted onto the bone just below the gum tissues. Endosteal is the most preferred option thanks to their better stability and longevity. If you want more information on dental implants, feel free to contact our team. You can reach us, Roane Family Dental at (503) 657-1215 today.