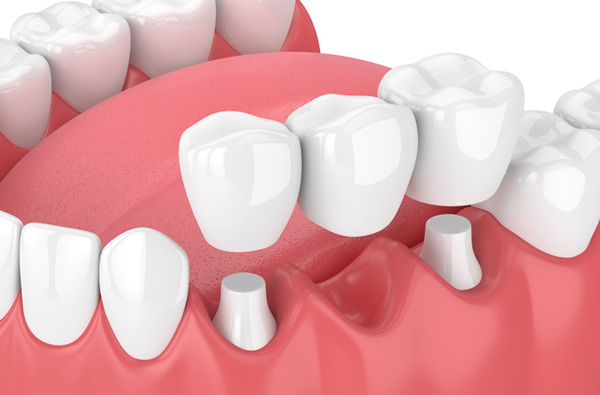 If you have one or a few missing teeth, our dentists at Roane Family Dental will fill in the empty spaces without causing you any discomfort. Our dentists can fix prosthetic devices called bridges, or false teeth, on a patient's existing teeth or
implants
. To make sure our patient's false teeth blend in with their natural teeth, we use porcelain material to make them. However, we can also use gold or other materials to create them, if requested.
Not getting a missing tooth replaced can cause many problems. A person's existing teeth might change their position to fill in the gap. This might induce pain and put pressure on other teeth and the jawbone. That is why we suggest our patients get those gaps filled with teeth as soon as possible. Our patients with gaps complain about slurred speech and an inability to eat properly. All this can be resolved with bridges.
Types of Dental Bridges
We offer four types of
dental bridges
based on our patient's dental condition. The first type is a traditional dental bridge. We place one or more bridges, which are fixed in place by
dental crowns
. The crowns are cemented on both of the patient's adjacent teeth. We recommend traditional dental implants to those patients, who have natural teeth beside the gap, on both sides.
We offer another type known as cantilever bridges. When our patient has only one natural tooth adjacent to the gap, we recommend the patient get a cantilever bridge. We fix the bridge by a dental crown that is attached to the natural tooth next to the gap.
Sometimes, we recommend our patients go for a Maryland dental bridge if they have natural teeth on each side of the missing tooth. We use a framework of porcelain or metal to hold the pontic or fake tooth in place and attach the framework on the backside of the patient's natural teeth.
The last type of bridge that we offer is called an implant-supported bridge. In case our patients want a permanent solution to their missing tooth, we employ an implant-supported bridge. As the name suggests, the bridge is supported by dental implants. We also prefer to use implants when our patient has more than one gap. We use one dental implant for one gap, but if there is a lack of space, we suspend the pontic between two implant-supported crowns. The implant-supported bridge is the most comfortable and secure.
What To Expect While Getting Bridges?
If our patient chooses to get traditional or cantilever bridge, our specialists will first prepare the supporting teeth by removing some of the enamel to make room for the crown holding the bridge. Next, we carefully take impressions of our patient's teeth to develop a perfect bridge, crown, and pontic. In their second round of visits, we deliver our patients a natural-looking prosthetic device that fits perfectly. While a Maryland bridge does not require the filing of the adjacent teeth, a dental implant bridge is fit by performing a small painless surgery.
At our clinic, we make every effort to ensure our patients undergo safe, comfortable, and successful dental procedures. To find out more about bridges and how they can work for you, call us, Roane Family Dental at (503) 657-1215 today.