The Clear Aligner Difference

West Linn, OR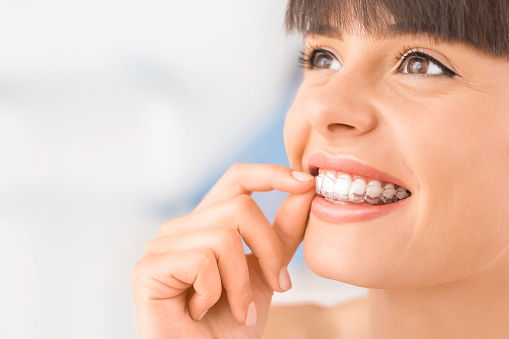 Clear aligners have created a new category in teeth alignment. Not every situation requires the traditional metal framework of braces. We can customize a treatment plan to correct your alignment with a discreet, clear aligner that can be removed when needed. Our team at Roane Family Dental can review, discuss, and create a treatment plan that's right for you, which may include clear aligners.


How are Clear Aligners Different?

Much like traditional braces, aligners are used to move the positioning of your teeth. Unlike braces, this can be done with the freedom of discretion.Traditional braces may provide the long term goal you're seeking, but the metal to achieve it can be intimidating. Many of our patients want to improve the look of their smile, while maintaining a professional appearance. Additionally, many of our patients enjoy the ability to remove their straightening device when needed. Clear aligners provide our patients the ability to be hidden, and to be removed.

Our patients like clear aligners for a variety of reasons including:


| | |
| --- | --- |
| • | Removable: Straightening your teeth is time consuming, it's completed over months, not days. Whether you play sports, a wind instrument, or have a special occasion, you may want the ability to remove your orthodontic device for brief periods. Clear aligners give you the ability to do that. |
| • | Hidden: Clear aligners are made of a clear silicone material that fit snugly over your teeth. This allows them to be far less noticeable than traditional metal braces. You do not have to have the look that we associate with the awkwardness of youth. |
| • | Easier to Clear: Clear aligners are easier to clean than traditional brackets and wires. When brushing, simply remove your aligners and brush inside and out. You won't have food that can get stuck in wires or brackets. |
| • | Won't Scratch your Soft Tissue: A common complaint by patients with traditional brackets and wires is their soft tissue getting snagged and cut. Clear aligners have no sharp points, they won't cut or damage your soft tissue. |
How Clear Aligners Work

The system that both clear aligners and traditional braces utilize is pressure to move and reposition your teeth. Clear aligners work through a series of different aligners. When you meet with our team, we will begin with your teeth and how they are currently positioned. We will then create a desired end result using a software program. The aligners that are created are customized through a series of small incremental movements that slowly shift your teeth toward that end result. Treatment time will vary on the work being done, but is often completed in less than two years.


We Can Help You Have a Beautiful Smile

Whether you have gaps, misalignment issues, or just want to beautify your most visible teeth, clear aligners can help. You can have beautiful teeth without considerable disruption to your life. Our staff is happy to answer your questions and help you learn more about clear aligners.

For more information, contact our West Linn office at (503) 657-1215.